Products and Services
Book Binding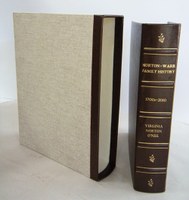 Book binding is known as the method by which printed sheets are put together to form books, magazines, catalogues, folders, directories, or product packaging. Based on specifications we offer paperback binding and hard cover binding or perfect binding. In the process of binding a book, the sheets must be cut, folded, gathered, glued, stapled, stitch, or sewn.
Methods of Binding
Leather Craft
This is the practice of making leather into craft objects or works of art, using shaping techniques, colouring techniques or both. Leather Craft is normally used for enhancement through creativity.
Customized Orders
We fulfill orders that are based on individual customers' specifications. Contact us for more information.